Barcode Label Printing Software for Post Office and Bank
Post offices and Banks uses barcode technology to fasten their daily clerical activities in simplified way. Barcode Label Maker Software provides the finest and the most professional way to create postal barcodes or bank standard barcode labels in any of the major Linear and 2d barcode fonts. To accelerate the parcel posting, mailing and delivery services in post offices and to improve various banking operations in small to large sized banks, barcode generator software is extensively used.
Barcode software relieves post offices by its excellence in performance to carry out various activities on time and without any error-
Used to encode the zip code and delivery point.
Tracks both inbound and outbound letter mail.
Used for Mail delivery confirmation.
Use to automate the reading of address data.
Barcode creator software is featured with an excellent barcode designing view facility which uses advanced barcode label designing objects to create eye catching postal or bank specific barcodes. Integrated with barcode series generating options, barcode system with ability to craft bulk numbers of barcodes beneficial in post offices as well as banks.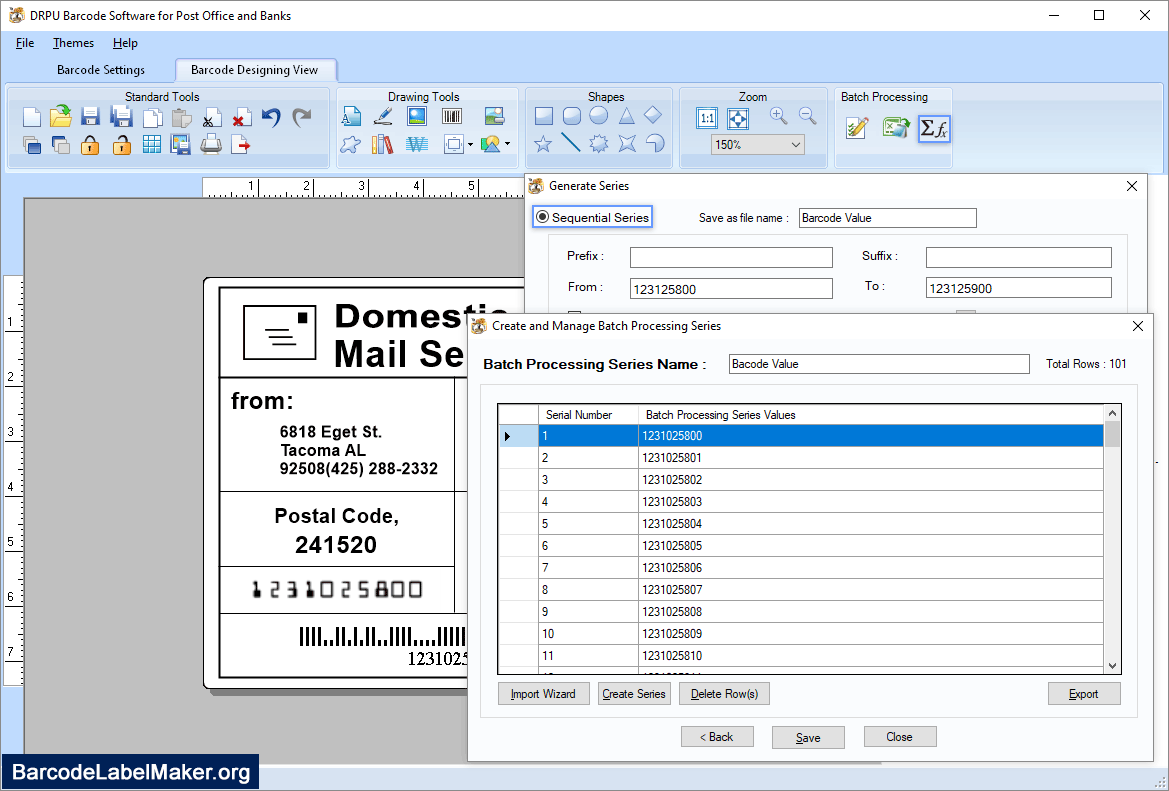 Enable "Sequential Series" to create bulk numbers of barcodes in sequence and click on "Create Series List" to generate barcode header list.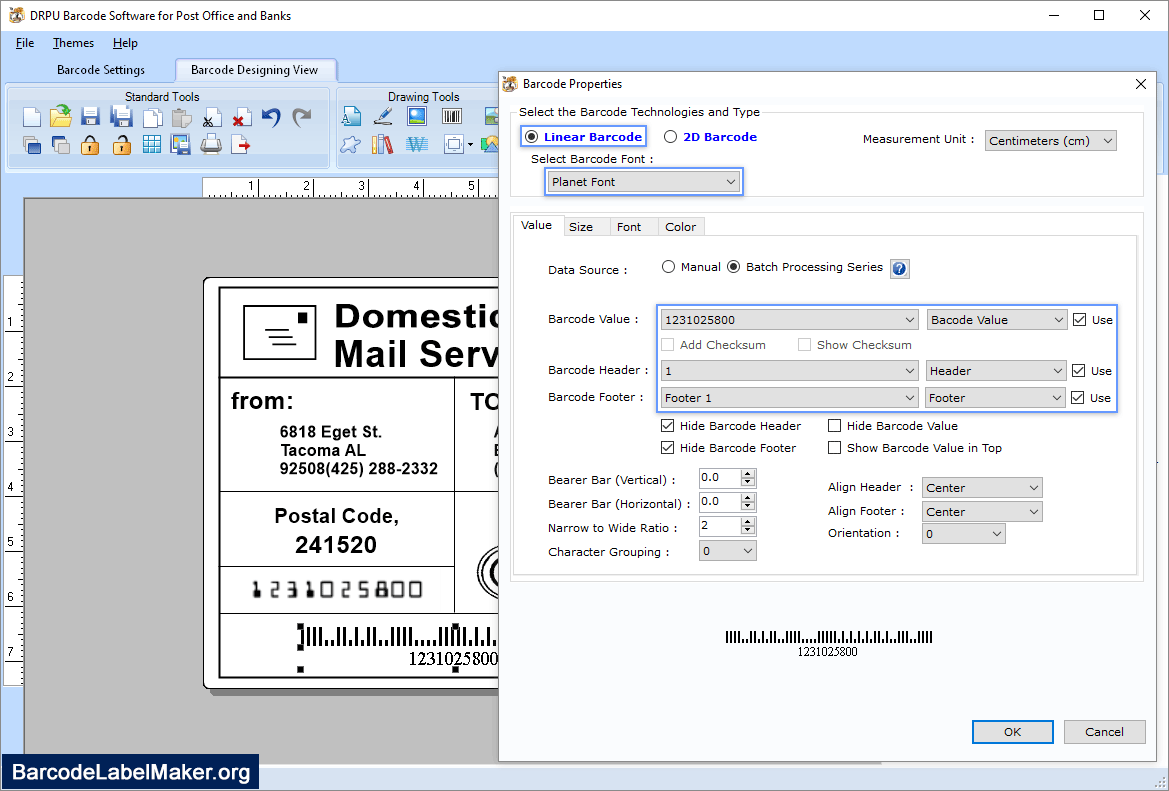 For designing barcode label click barcode icon from drawing tools and double click on it to set its properties(select barcode type, font, value, size, color etc).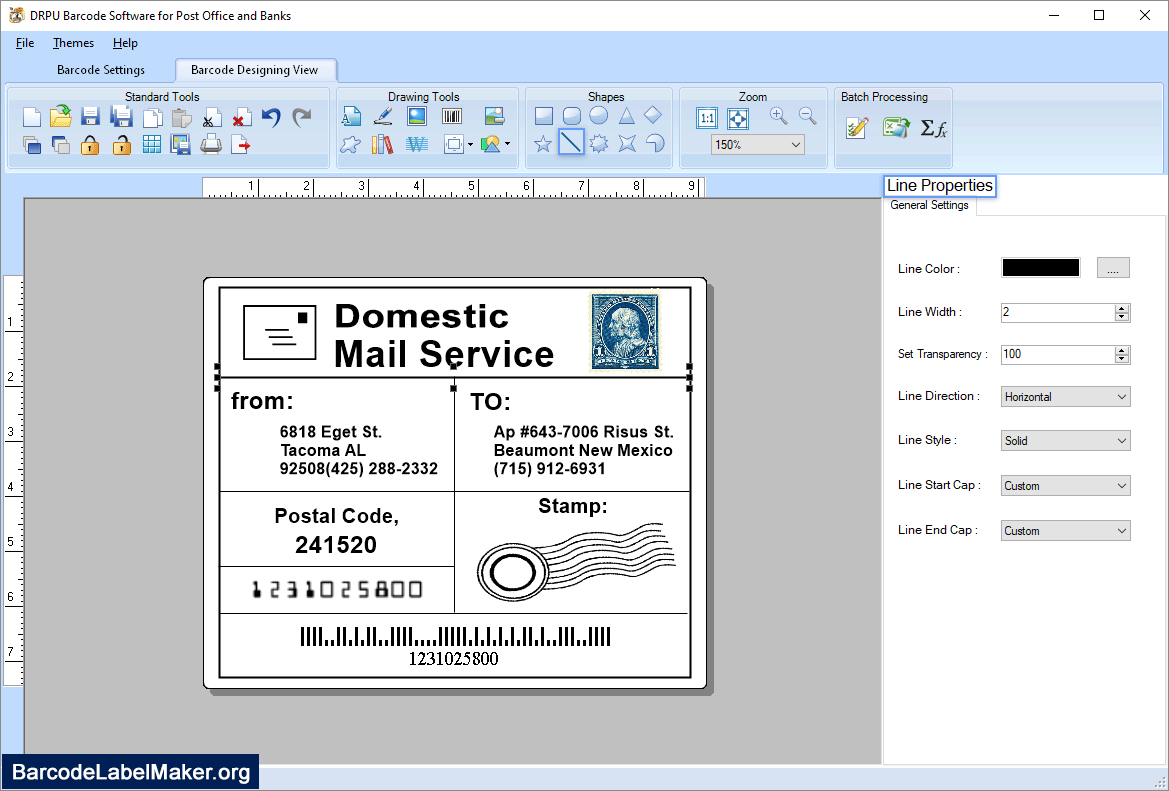 To use any shape on your label go to Shapes toolbar, select any shape and you can set its properties. As we have selected line in above screen.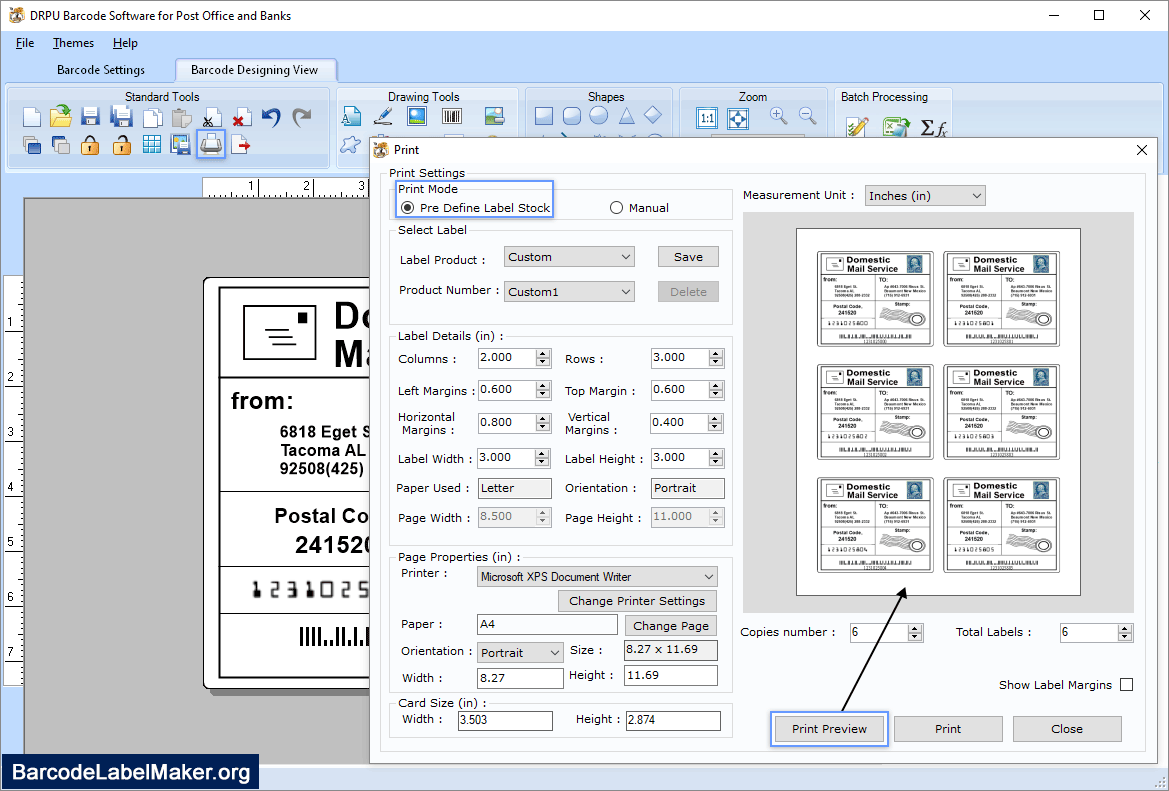 Print settings to print designed barcode labels and select Auto (Center) option to align barcode label at center of paper.
Major Software Features :
Quick and accurate barcode generator.
Barcode maker platform specialized with image designing objects to create user desired postal barcodes.
Barcode label printing software offers wide range of print options.
Easily adjustable font, color and other image settings.
Supports to work with frequently used barcode scanners and printers.
Easy to use software that can be worked upon by all users.
No expert guidance required to operate the software.
Series generating features helps to build compound barcodes beneficial in post offices and banking sectors.
Supported Barcode Fonts :
Linear Barcode Fonts
Code 11, Code 128, Code 128 SET A, Code 128 SET B, Code 128 SET C, Code 39, Code 93, Code 39 Full ASCII, ITF-14, LOGMARS, Planet, Postnet, USPS Sack Label, USPS Tray Label, USS-93
2D Barcode Fonts
MaxiCode, MICR