Barcode Label Printing Software - Professional Edition
Now create barcode images in Linear and 2D fonts
Advanced Barcode Label Maker Software featuring all latest barcode fonts standards including Linear and 2D barcode symbologies create customized and high quality barcode images in short time. Featuring major barcode image generation technology, barcode software easily design and print colorful barcode labels (in form of Stickers, Tags) as per specific need and requirement.
Advance barcode designing view supports creation of barcodes with the use of image designing objects mainly including Pencil, Rectangle, Ellipse, Line etc. Barcode generator software provide option to save created barcode images in different file formats including JPEG, TIFF, Bitmap, PNG, WMF, EMF, EXIF and GIF on your PC. Barcode maker software is regularly used in Retail, Pharmaceuticals, Transportation, Healthcare, postal services, fresh food industry, shipping industry etc.
With most innovative image designing features, you can design and print barcode labels using advanced barcode technology with simplified approach. So now don't waste your precious time and money to create barcode images from outside source, just use barcode software and design and print barcode labels by your own.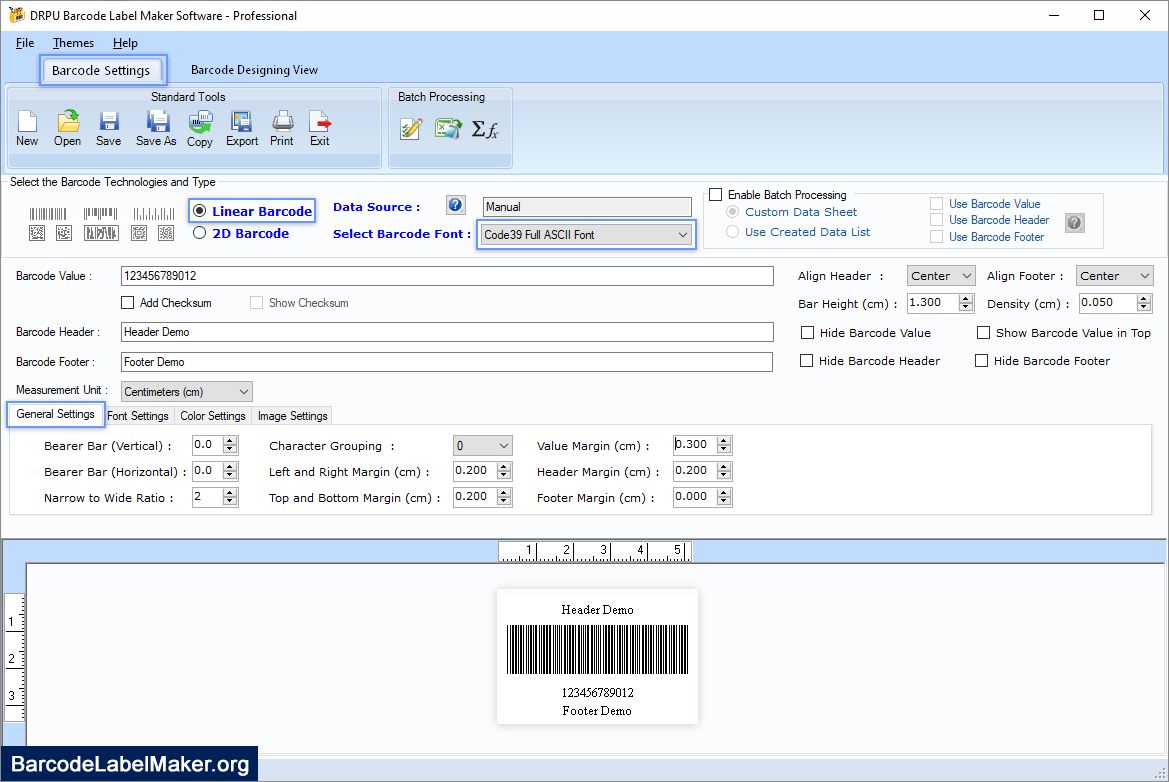 Enter Barcode Value and click on "General Settings" to set header, footer, top, bottom, left and right margin.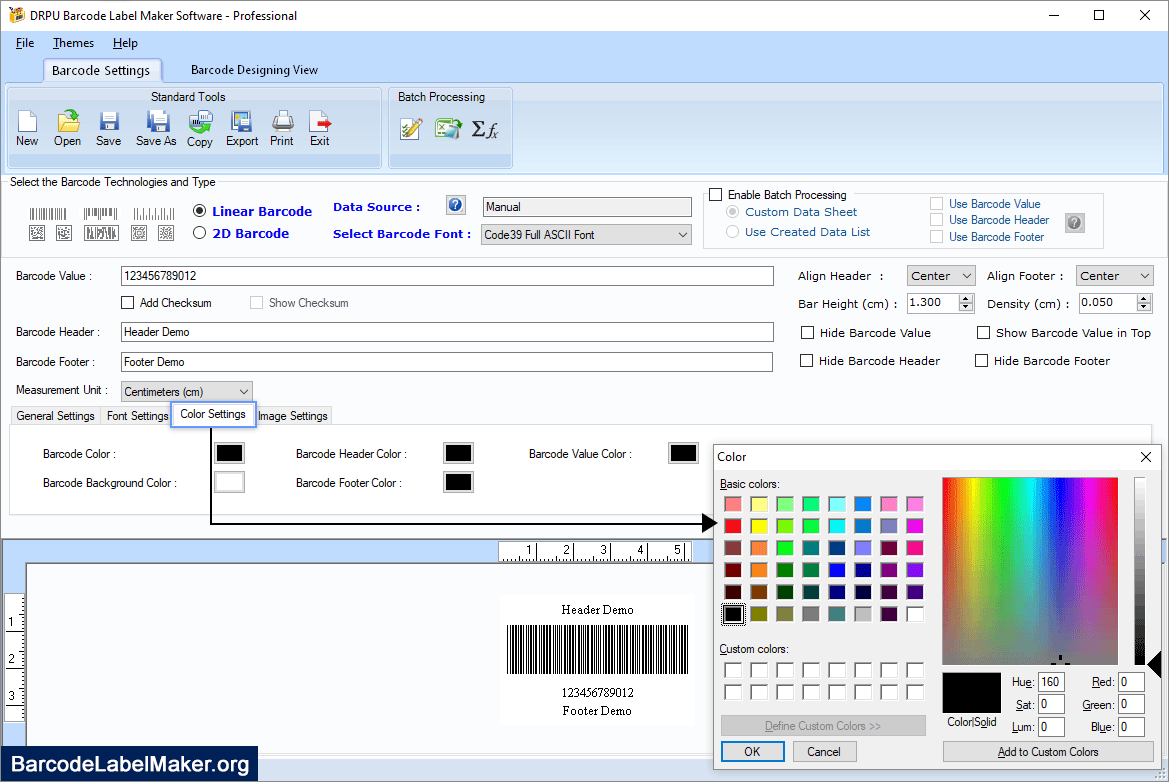 Color Settings to set barcode background, header and footer color.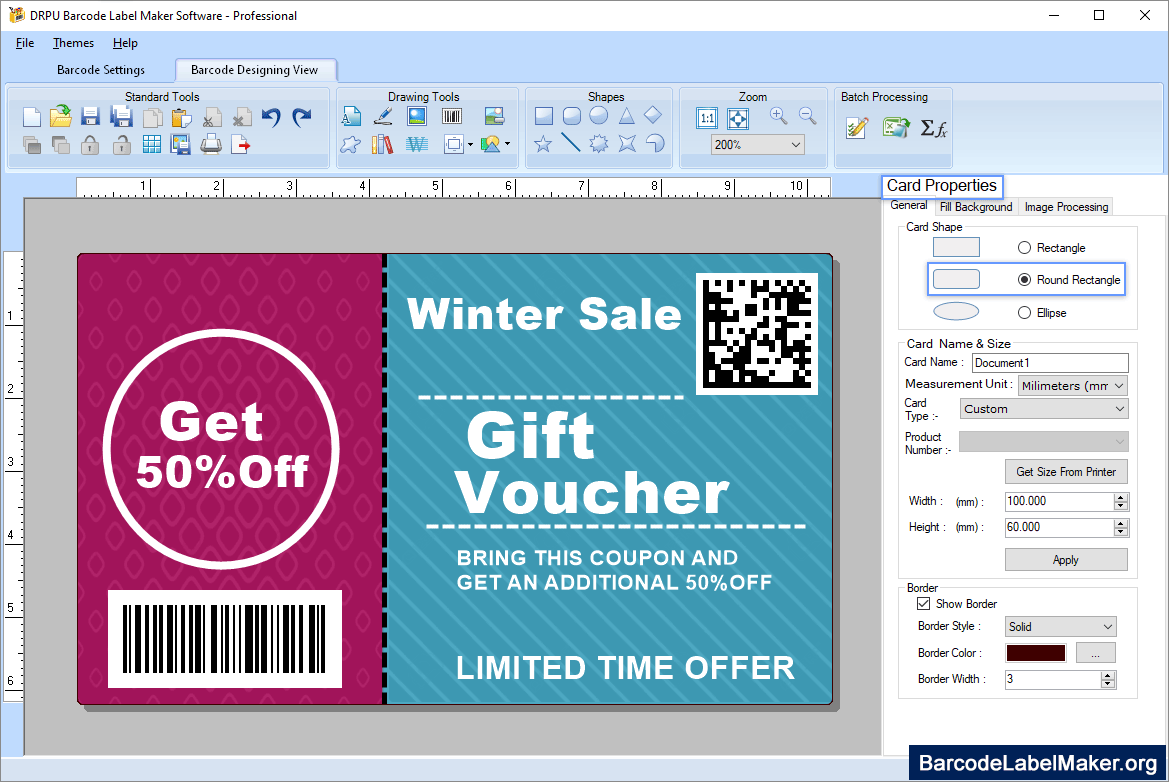 Click on Barcode Designing View then change the "Card Properties" like Card Name & Size, Card Shape and border of the card.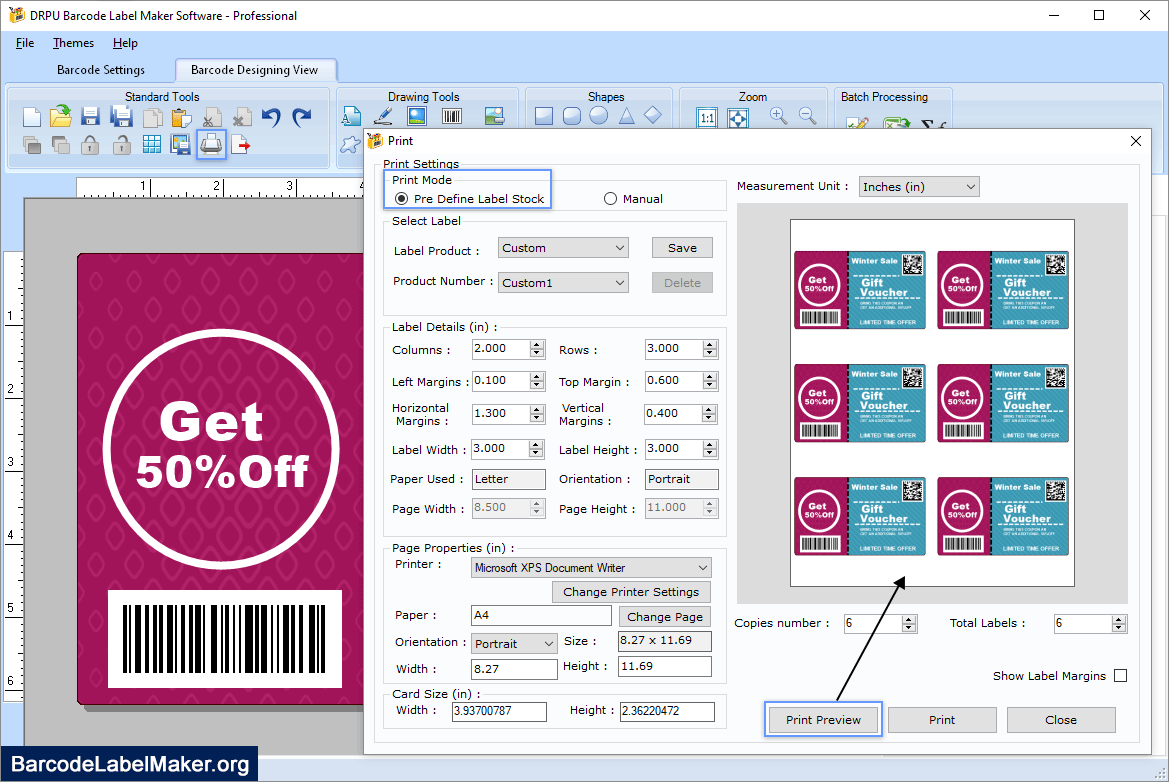 Now print designed barcode labels by clicking print icon and set print settings. For demonstration purpose in above screen we have choosen Pre Define Label Stock Mode to print barcode labels.
Supported Linear and 2D Barcode Standards :
Linear Barcode Fonts
Codabar, Code 11, Code 128, Code 128 SET A, Code 128 SET B, Code 128 SET C, Code 39, Code 93, Code 39 Full ASCII, EAN13, EAN8, Industrial 2 of 5, Interleaved 2 of 5, ISBN 13, ITF-14, LOGMARS, MSI Plessey, Planet, Postnet, Standard 2 of 5, Telepen, UCC/EAN-128, UPCA, UPCE, USPS Sack Label, USPS Tray Label, USS-93
2D Barcode Fonts
Aztec, Databar, Databar Code 128, Databar Code 128 Set A, Databar Code 128 Set B, Databar Code 128 Set C, Databar Expanded, Databar Limited, Databar Stacked, Databar Stacked Omni, Databar Truncated, Databar EAN 13, Databar EAN 8, Databar MicroPDF417, Databar PDF417, Databar UPCA, Databar UPCE, DataMatrix, MaxiCode, PDF417, QR Code, MICR Font
Software Features :
Support creation of barcode images in Linear and 2D barcode fonts.
Generate Barcode List (multiple barcode images) using Sequential Series, Constant Value Series and Random Series options.
Option to generate colorful barcode images.
Barcode label printing software offers flexible print settings while printing barcode images.
Barcode label designing feature creates colorful barcode labels, stickers and tags.
Easy and simple to operate barcode generator program.
No need of any specific skills to operate the barcode creator software.