Barcode Label Maker Software (Corporate)
Barcode Label Maker Software (Corporate) helps you to design and print various kinds of barcode labels, sticker, tags, coupons, rolls, ribbons etc. We provides different types of barcode software to generate barcodes images using linear as well as 2D fonts for different organization including Healthcare sector, Banks, Pharmaceuticals, Transportation, Postal services, Fresh food industry, shipping industry etc. Barcode generator program has capability to generate and print multiple numbers of barcode images simultaneously using random, sequential and constant value series generating feature.
Order Barcode Software (Corporate Edition)
Click on Screenshot to view Working Procedure ☟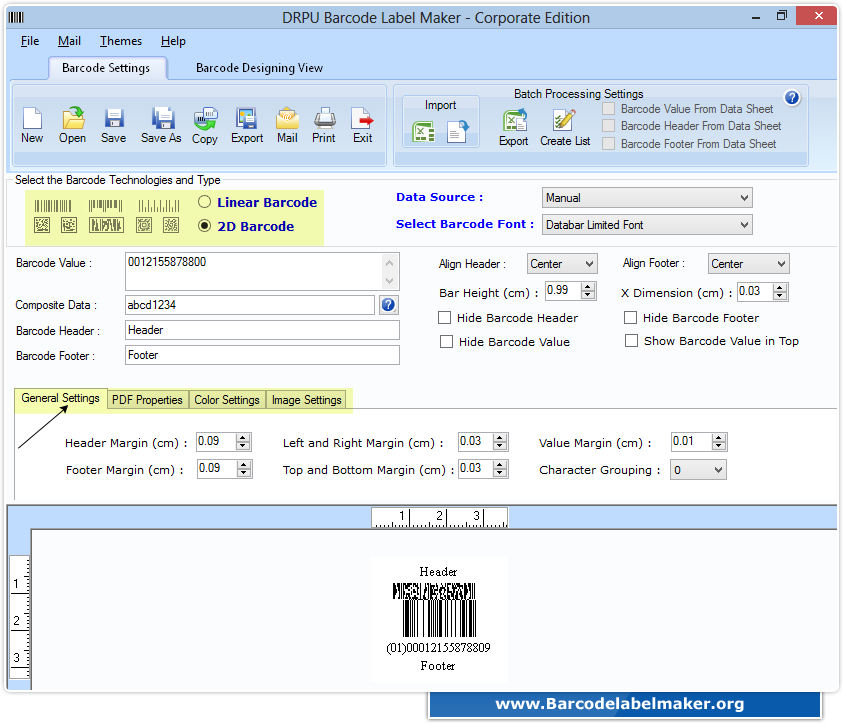 Supported Linear and 2D barcode standards
Linear Barcode Fonts
Codabar, Code 11, Code 128, Code 128 SET A, Code 128 SET B, Code 128 SET C, Code 39, Code 93, Code 39 Full ASCII, EAN13, EAN8, Industrial 2 of 5, Interleaved 2 of 5, ISBN 13, ITF-14, LOGMARS, MSI Plessey, Planet, Postnet, Standard 2 of 5, Telepen, UCC/EAN-128, UPCA, UPCE, USPS Sack Label, USPS Tray Label, USS-93
2D Barcode Fonts
Aztec, Databar, Databar Code 128, Databar Code 128 Set A, Databar Code 128 Set B, Databar Code 128 Set C, Databar Expanded, Databar Limited, Databar Stacked, Databar Stacked Omni, Databar Truncated, Databar EAN 13, Databar EAN 8, Databar MicroPDF417, Databar PDF417, Databar UPCA, Databar UPCE, DataMatrix, MaxiCode, PDF417, QR Code, MICR Font
Software Features
Support creation of barcode images in Linear and 2D barcode fonts.
Generate Barcode List (multiple barcode images) using Sequential Series, Constant Value Series and Random Series options.
Barcode label printing software offers pre define label stock and manual mode to print designed barcodes.
Provides inbuilt email setting to send generated barcode images through e-mail.